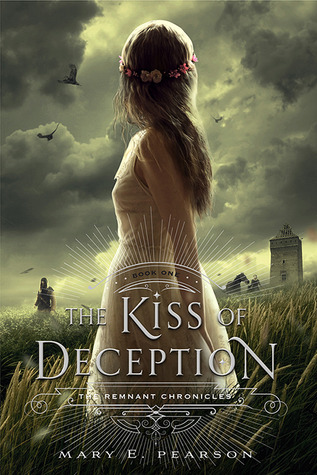 Title: The Kiss of Deception
Author: Mary E. Pearson
Published: July 8th, 2014 by Henry Holt
Series: The Remnant Chronicles #1
read in: March, 2015
fantasy • young adult • romance
---
Princess of Morrighan
Prince of Dalbreck
Venda's Assassin
The Loyal Servant
This story is about a girl named Lia, Princess and First Daughter of the house of Morrighan who ran away from her family and duty. By history and tradition, a First Daughter in royal bloodline is gifted with a special power and has a huge responsibility. All her life, her father only saw her as a soldier to serve the kingdom which lead to an arranged marriage with the Prince of Dallbreck whom she never met to create a crucial alliance.
"Inspect a Prince? Our relationship with Dalbreck is already Tenuous at best. You'd have us insult their kingdom with such a request when Morrighan is hoping to create a crucial alliance?"
"I'm not a soldier in Father's army."
My Mother drew closer, brushing my cheek, and whispered, "Yes, my dear. You are."
She then ran away with Pauline, her loyal servant, to Terravin where Pauline's aunt live and start a new life there. They both worked happily as a waitress in her aunt's tavern and met two guys who were captivated by the Princess beauty (or skill or I don't know what) and suddenly didn't know what were their purpose finding her for days.
---
I dislike so many thing in this book. First, is the total loser heroine ran from her duty. She didn't even run to buy some time solving her problem instead she ran away to just leave it there. Leave the whole two kingdom's future behind and having a happy life being a waitress. Hoping one day everything will just be forgotten.
"Maybe that's what bothered me most of all. While I was on the road, wondering if she was the quarry of bandits or bears, she was playing barmaid."

Next is Pauline. What a loyal servant she is. She had an amazing life being a servant and a love of her life, Mikael which she really love but NO! she choose to follow the Princess to run away not only committed treason to the king but also leaving her love life with Mikael behind.
And then the two guys aka Love Triangle:
Prince of Dalbreck, who probably had nothing else to do than being curious about the girl who ran away from him the day they were to be married and spend days or maybe weeks just to find her.
"Will you confront her?"
"No. I probably won't even speak to her."
Wait. What?
You're the Future King of a kingdom and you still have time to search for a girl who ran away on your wedding day that you have NEVER EVEN MET? Yes, he had! And he didn't know what for! That wasn't all. There was also this insta-love happening. Love at the first sight. ohh..
Because ever since that first day I met you, I've gone to sleep every single night thinking about you, and every morning when I wake, my first thoughts are of you."

"From the first day, Lia. I wanted this, wanted you."
bla bla bla.. I don't need to elaborate my opinion any further. It was just nonsense.
The Venda's Assassin was just the same. I don't know how to put this into words. Is he really an Assassin? Barbarian? or even a Men?.
I'm not sure what I expected, but it wasn't her.

I didn't know why I should feel sick. Maybe it was the way she had looked into my eyes this morning. The way she lingered. The blush on her cheeks. It did something to me. Something I liked.
SOMETHING I DON'T LIKE. Even Celaena is a far better assassin than him. And she is a girl. I just can't. He was an assassin that had so many people killed before that he couldn't even count how many. All of his reputation being an assassin was broken into pieces. All because of what? Yes. Right. Insta-love with the oh-so-amazing Princess of Morrighan.

The story was really long and slow, about the first half of the book got to the point of nowhere. There so many things that should've been elaborated such as the story of First Daughters, the kingdoms, the history and so many things I was curious about rather than those unimportant flirting things between these three.
The only thing that I found amusing and made me kept going is how the writer hide the identity of the assassin and the prince. Well, I did have my doubt of who's who but that was the only reason I rate this a two rather than one star.
"But remember, child, we may all have our own story and destiny, and sometimes our seemingly bad fortune, but we're all part of a greater story too … Greater stories will have their way."
I don't know if I'm going to continue the second book. Well, maybe this first book was just a part of a "great story". Let's hope for that, but still I won't set a high hope reading the second book.
---