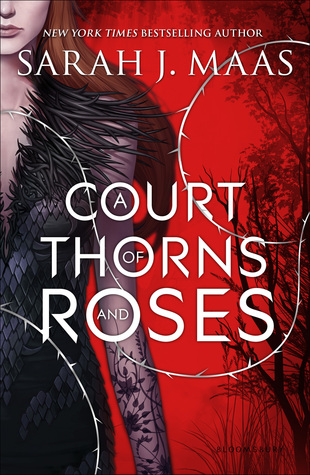 Title: A Court of Thorns and Roses
Author: Sarah J. Maas
Published: May 5th, 2015 by Bloomsbury Children's
Series: A Court of Thorns and Roses #1
read in: May, 2015
new adult • fantasy • fairy tale • romance
"There is a better world out there, waiting for you to find it. And if I ever get the chance, if things are ever better, safer . . . I will find you again."

When nineteen-year-old huntress Feyre kills a wolf in the woods, a beast-like creature arrives to demand retribution for it. Dragged to a treacherous magical land she only knows about from legends, Feyre discovers that her captor is not an animal, but Tamlin—one of the lethal, immortal faeries who once ruled their world.

As she dwells on his estate, her feelings for Tamlin transform from icy hostility into a fiery passion that burns through every lie and warning she's been told about the beautiful, dangerous world of the Fae. But an ancient, wicked shadow grows over the faerie lands, and Feyre must find a way to stop it . . . or doom Tamlin—and his world—forever.

Perfect for fans of Kristin Cashore and George R. R. Martin, this first book in a sexy and action-packed new series is impossible to put down!
---
The thing about starting a new fantasy book is how to get lost in the story at the first place. It's different from a contemporary books since you can't imagine the wondrous of a writer's imagination that has been poured in to the world they built. And I felt A Court of Thorns and Roses were so easy to get lost into because it was really refreshingly new vibe of a fantasy but you could still notice it as Sarah J. Maas book.
The most delightful thing about this book was the fact that it was Beauty and The Beast in a New Adult High Fantasy. Yes, I know, there were probably not so many of New Adult Fantasy book out there. In fact, this was my first time reading a New Adult book set in a high fantasy world. You would notice this when the main character first mention about her 'friends with benefit' relationship with the guy in his village, and then a few hot scenes later on as the story goes.
I need to warn you, there were an EXTREMELY HUGE amount of hot guys in this book. Tamlin, as the representation of "the beast" was really perfect. He had the wild and dark side while at the same time had the "Prince Charming"-esque that of course reminded me of all those childhood fairy tales. The other male characters scene with Feyre was also very sweet and enjoyable since their friendship was full with snarky conversations but still they cared about each out there.
As for the romance, do not worry for this is not a heartbreaking-love-triangle story. Though at certain times, the other boys was swooning me into liking them, the story was kept grounded to Tamlin and Feyre's relationship. Their relationship was slowly developed through the pages until it became hot and passionate. Yumm!
There was a bit too much of Feyre's story about wandering around the manor that made the story seems like wasn't going anywhere, not that I was bored, but just wanted this to be more packed with action. I was hoping the riddle would be more complicated (since my first guess were right). And the ending was also a bit rushed.
Overall, this was such a great way to start the series. I can't wait for the second installment to make me drawn in to this amazing world such as this book hypnotized me with its universe.
---