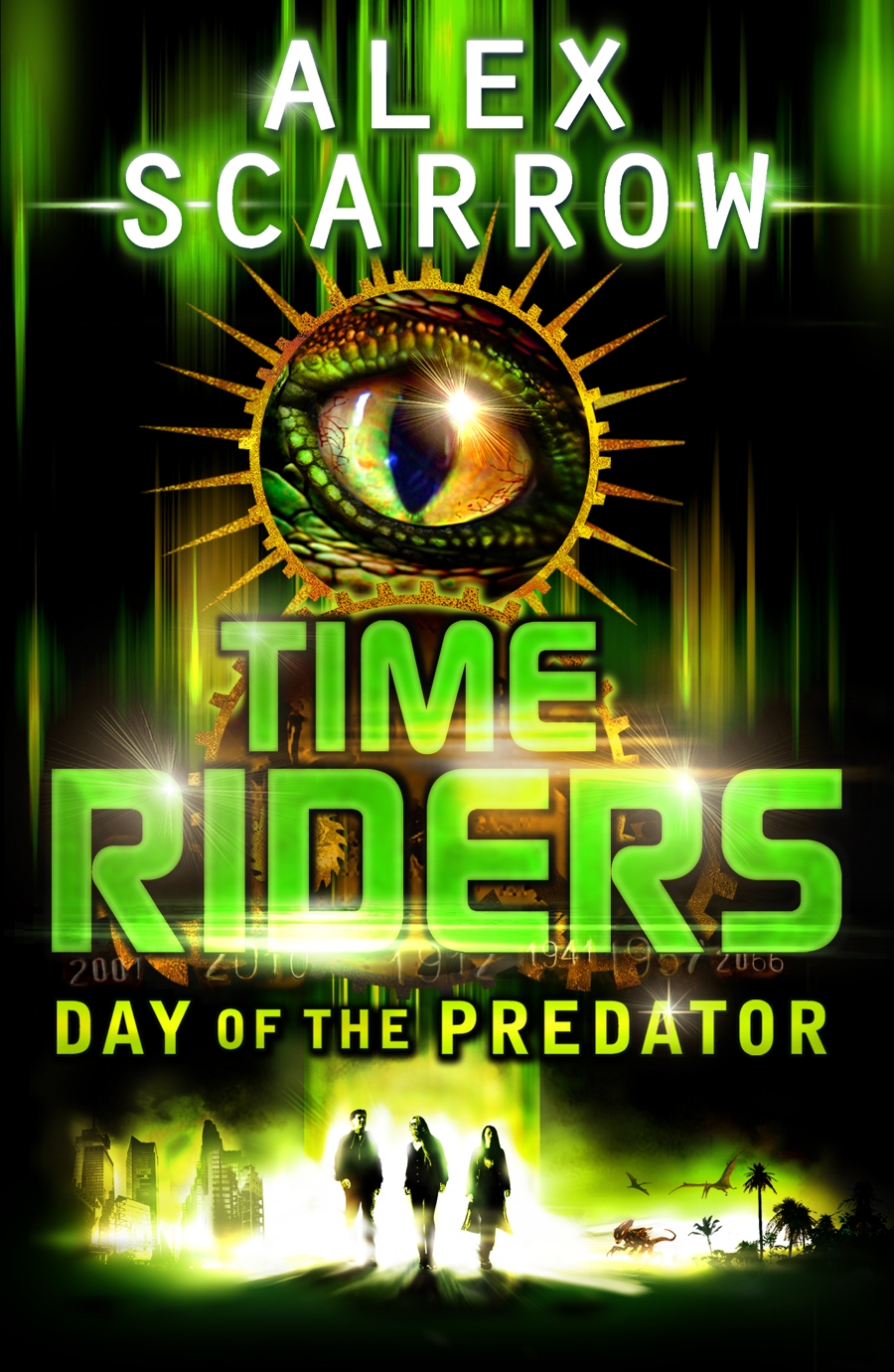 Title: Day of The Predator
Author: Alex Scarrow
Published: August 5th 2010 by Puffin
Series: TimeRiders #2
read in: August, 2014
young adult • science fiction
---
'Mankind just isn't ready for that kind of knowledge. We're like children casually playing with an atom bomb."

Liam O'Connor should have died at sea in 1912.
Maddy Carter should have died on a plane in 2010.
Sal Vikram should have died in a fire in 2026.

But all three have been given a second chance—to work for an agency that no-one knows exists. Its purpose—to prevent time travel destroying history . . .

When Maddy mistakenly opens a time window where and when she shouldn't have, Liam is marooned sixty-five million years ago in the hunting ground of a deadly—and until now—undiscovered species of predator.

Can Liam make contact with Maddy and Sal before he's torn to pieces by dinosaurs—and without endangering history so much that the world is overtaken by a terrifying new reality?
---
 Well, this is a bit awkward. I wasn't sure if I liked this as much as I loved the first one. I felt this one a bit boring. Though I still loved the time travel part of the book, the dinosaur era didn't quite as thrilling as I thought it should have been.
The characters was still really good and weren't annoying and disturbing the story. I love how the three must do things their own without Foster helping them in this book. The additional character, the Broken Claw, was also really interesting since Scarrow made its point of view in this book so that the reader could imagined how they start evolving in a certain way, changing history. 
The idea of making a journey to the dinosaur era—accidentally—was really cool and interesting. I did hope that it would be somewhat thrilling and have the kind of a Jurassic Park moments. Well, it actually did have some scene where I was really thrilled and excited reading it, but most of the part I really feel like it was a bit dull. I don't know why but I felt like it was boring and slow.
I was a bit slow reading this until it came to the moment where they finally trying to fix the history. From there everything back again to being fast  paced and a page turner. Oh and that ending. Gosh! I didn't see that coming. Oh my God, that was really shocking and exciting and argghhhhh. Nope, no, I won't spoil it to you guys. XD
---