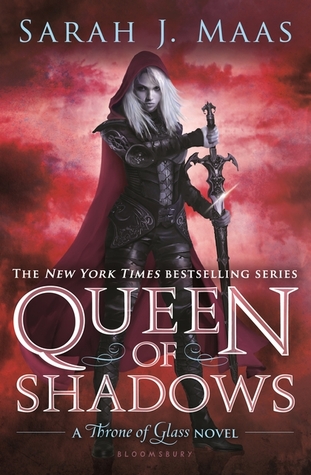 Title: Queen of Shadows
Author: Sarah J. Maas
Published: September 1st 2015 by Bloomsbury USA Childrens
Series: The Throne of Glass #4
read in: September, 2015
young adult • fantasy
---
"Of course I like luxury—you think I don't love these gowns and jewels? But in the end … they're replacable. I've come to value the people in my life more."
WARNING!! SPOILERS FOR THE THRONE OF GLASS (BOOK #1, #2, AND #3) AHEAD
Everyone Celaena Sardothien loves has been taken from her. But she's at last returned to the empire—for vengeance, to rescue her once-glorious kingdom, and to confront the shadows of her past . . .

She will fight for her cousin, a warrior prepared to die just to see her again. She will fight for her friend, a young man trapped in an unspeakable prison. And she will fight for her people, enslaved to a brutal king and awaiting their lost queen's triumphant return.

Celaena's epic journey has captured the hearts and imaginations of millions across the globe. This fourth volume will hold readers rapt as Celaena's story builds to a passionate, agonizing crescendo that might just shatter her world.
---
I'm so glad that I have finally read my most anticipated book this year. My heart now feel whole because this book has done a pretty good job.
In the third book we all know that Dorian has kind of been possessed by one of the King's minion which I know broken many of reader's heart, but I loved how Maas still gave some little space once in a few chapters to bring out the real Dorian's feeling. Well, not really helping though, since everytime his point of view came out, we all have the feeling that he would surrender all of himself to the darkness.
The other characters have become more and more mature in this book, well except for Chaol. More than half of the book I found his character was boring and whiny. His skepticism really annoyed me the entire time. The other characters was so entertaining though. I loved that there are some new characters included, especially Lysandra. It's been so long since Nehemia died and I felt so happy when there's a new girl best friend character in the book.
The third book left a bit disappointment for me not knowing when will Manon the Blackbeak Witch and Aelin met. Fortunately, there were finally a connection between Manon and Aelin in this book. I loved when they encounter each other so much.
As the for romance, I am really glad with what happened in this book since the third book was kind of a bit confusing of who Aelin will end up having a relationship with, so this book really gave a full satisfactory to me. Though I would like the book to bring the romance a bit less because sometimes there was too many hormones in the air that felt unnecessary.
I could have given this book a perfect 5 stars if it were not because the length it took me to really enjoy the book. I felt like more than half the book was full with planning than action. I think after more than a half of the book when the operation "saving the kingdom" start to happen was when I fully enjoyed the book. There even was one point where I screamed out loud (literally) because a plot twist that I scared the most really happened.
Overall, despite the good and the bad, I still had enjoyed Queen of Shadows very much and I can't wait 'til the next installment to come out!
---